Welcome to the Sandman Wiki.
The Sandman is a series created by Neil Gaiman in 1989. It entails the ventures of the god of dreams, Dream of the Endless, in realms that transcend the boundaries of human comprehension. With interesting and terrifying twists of mythology, The Sandman is a story about stories and how Morpheus is captured and subsequently learns that sometimes change is inevitable.
We are currently editing over 273 articles, and you can help by clicking the links below.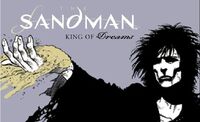 Dream
is one of the seven Endless, who are powerful beings older than gods. He is both the personification, as well as the lord over all dreams and stories, and all that is not in reality (which, in turn, Dream may define by his existence). He has had many names such as Morpheus, Kai'ckul, Sandman, and Oneiros. His appearance can change, depending on the entity looking upon him.
We have...
1,294 pages

273 articles

466 images

5,325 edits

You can help grow the wiki! Follow the tutorials to get started! If you already know how to edit, you can add an article with the link below.