Barnabas is a talking dog who was Destruction's companion. He appears to be a German Shepard cross, but his breed is never specified.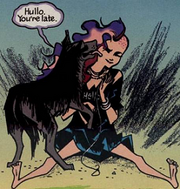 Destruction would later give Barnabas to his little sister, Delirium, to protect and look after her.
Trivia
[
]
Artist Jill Thompson based Barnabas on "a sweet Australian Shepherd" dog belonging to a long-ago former neighbor. The neighbor was unkind to the dog, and Thompson decided to memorialize him in the character of Barnabas.